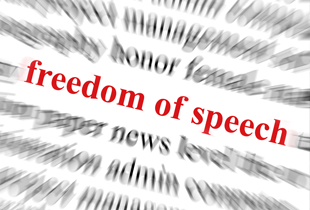 A small college in Vermont reminded us last week that free speech is still under attack on college campuses. Middlebury College students invited American Enterprise Institute scholar Charles Murray to speak on how strands of the American political and social fabric are Coming Apart, the title of his book on growing divides that cross racial lines.
Yet it was Middlebury that came apart, as student protestors blocked Murray's speech. "I went onstage, got halfway through my first sentence, and the uproar began," Murray wrote for AEIdeas, the institute's blog.
For those following the issue of free speech on campus, this episode is yet another incident in which a speaker was invited to campus and protestors physically prevented the speaker from beginning or finishing his remarks. Incidents such as this have been happening for decades across the country—from Oregon to New England and places in between.
The wave of campus "free speech zones" does not seem to be protecting individuals' right to be heard. Universities around the country have designated areas on campus where students can hold speeches or demonstrations. Politico reports that state lawmakers in New Hampshire, Washington, Texas, Kentucky, North Dakota, Colorado and Utah are considering legislation that would prevent universities from limiting students to these tiny atolls of expression, citing "pressure on colleges to preserve safety [at campus events] without silencing speech."
Arizona lawmakers have already adopted a law protecting free speech at public universities (and making all of campus a free speech zone). Lawmakers in Virginia's House of Representatives voted in favor of a resolution in favor of free speech on campus earlier this year.
As for the Murray/Middlebury College incident, Middlebury is a private university, and  university faculty did not wait for Vermont lawmakers to pass a bill. Last week, 56 Middlebury professors wrote a statement defining what free speech means to them and professing support for free expression.
The statement reads, "The purpose of college is not to make faculty or students comfortable in their opinions and prejudices," and says, "we are steadfast in our purpose to provide all current and future students an education on this model, and we encourage our colleagues at colleges across the country to do the same."
State university administrators and legislators should expect no less from public universities—not because a private college made such a commitment, but because mission statements in favor of free expression can help set the tone for campus life. Such contracts between university leadership and students should be widely distributed on campus materials and accompanied by guidelines for campus conduct and consequences for blocking free expression.
State lawmakers and university administrators need to follow Middlebury's example, profess support for free speech, and protect student and faculty expression on campus.
Read more articles:
by author
on free speech